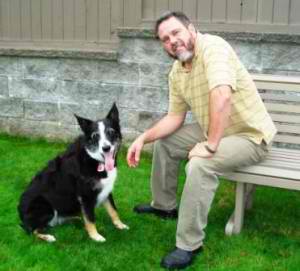 My name is Mike Kelly and I am the chief cook and bottle-washer of 'Imagine it in Stone'. Carving into stone, wood, and glass using a sandblasting method is what I do.
I live in Surrey, British Columbia with my wife Carole and 'Belle', our border collie.
Due to economic times I found myself unemployed. This was the incentive I needed to start a business from a hobby I've worked at for 20 years. This is something I've wanted to do for a long time.
I first got started in this 'hobby' while visiting relatives in Sweden. I met a Swedish artist who worked with wood and stone. He took me under his wing and showed me his techniques for working with these media. Coming back to Surrey, Canada I continued to develop my skills in working with stone and wood and also began working with glass.
One feature of Imagine it in Stone is our Pet Memory Stones. The idea of honoring the memory of pets came from my love for animals and an understanding of the grief at the loss of a much loved pet. Our Pet Memory Stones is our way of celebrating the life of your pet. I personally like the idea of taking something natural and eternal like a rock and putting thoughts and feelings into it. By writing it in stone, I know these thoughts will be there forever, or at least for thousands of years.
At 'Imagine it in Stone' we do ….Garden Stones…. Wedding Stones….Birth Stones….engraved Glass Artwork…. Wood signs…. Polished Granite signs (for home, business, or addresses) and also Pet Memory Stones
For that perfect gift of caring or to immortalize your thoughts in stone 'Imagine it in Stone' is here for you.